By Ricky Clarke
Set-pieces are extremely important in soccer. Statistics show that 40-50% of soccer goals scored come directly from set plays (corners and free kicks) or when possession is regained right after a set play. This weekend Lyon and PSG's game finished 4-4, however PSG's first goal came from a clever free-kick.
PSG Free-Kick #Foul
Here Cris gives away a silly free-kick. The ball is running out of play and he commits to a poor tackle, which gives PSG their free-kick.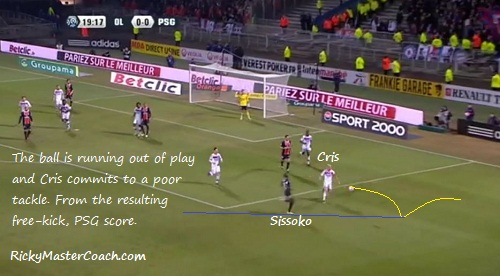 PSG Free-Kick – Movement Pattern #1
Hoarau starts at the back post, confusion and good movement allows him to break free and attack the Ball.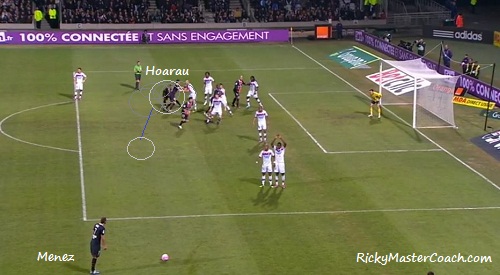 PSG Free-Kick – Movement Pattern #2
Movement towards the goal provides Hoarau with time and space. The Lyon defense drops and reacts slowly to his movement.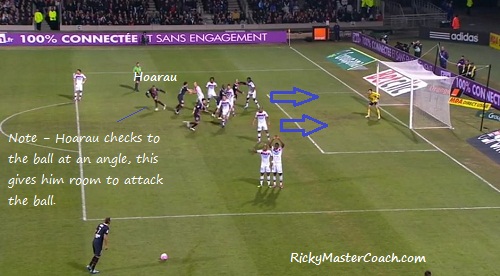 PSG Free-Kick – Movement Pattern #3
Hoarau provides himself with space, he checks back towards the ball and shapes to shoot. NOTE – How deep the Lyon defense has dropped!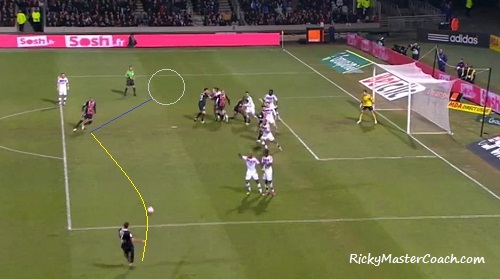 PSG Free-Kick – Movement Pattern #4
Hoarau finishes the ball with a simple in-step pass into the bottom corner. NOTE – He didn't try and smash it, placement over power.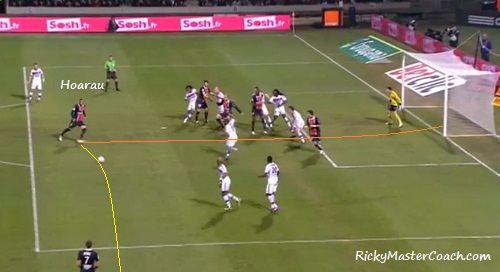 PSG – Set Piece Training Session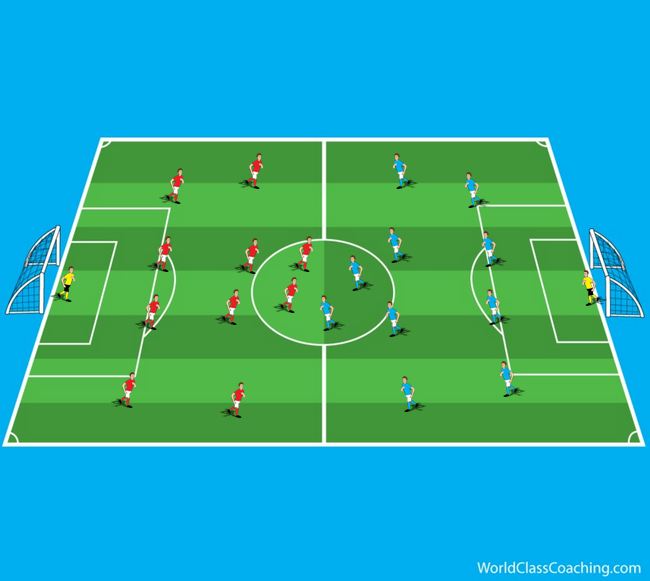 Session Outline
Most training sessions involving set-pieces can become boring and lack movement. The session involves two teams 11v11 (You can use smaller numbers if needed). The game is 30 minutes long and has the following game conditions:
Game Conditions
5 Consecutive passes = A free corner kick.
8 Consecutive passes = A free-kick (direct) of choice within 20 yards of the goal.
Throw-In's = A free-kick (indirect) from the flank.
Coaching Points
Reinforcement of quality delivery.
Quick dynamic movements.
Ricky Clarke is a USSF 'A' License, USSF Youth License and NSCAA Master Diploma coach. Ricky is the DOC of Mission Valley United, leading several teams to state championships.  Ricky also coaches for the Northern California ODP programs and is a state course instructor and NSCAA associate staff coach.  Visit his Blog here.