This post is an excerpt from our book – FC Barcelona – Style and Domination – A tactical analysis of FC Barcelona
Perhaps the best way to illustrate Barcelona's attacking is to look at the common patterns of play and also diagram some of the highlights of the 2011-2012 season.
Initiating Attacks – Playing Out of the Back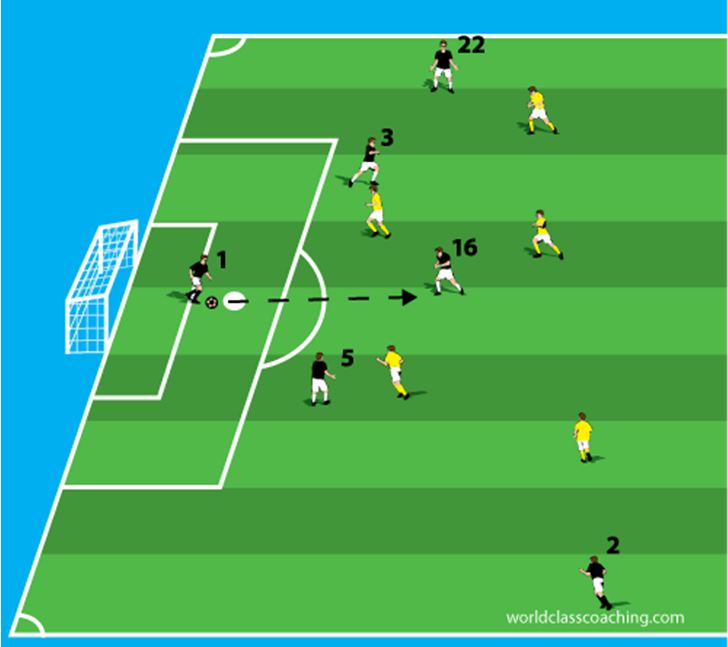 Barcelona playing out of the back (1) vs. high pressure
Victor Valdes (1) is in possession and despite the opponent applying pressure with five players forward, he refuses to serve the ball up and risk possession on a clearance. The center backs (Pique (3) and Puyol (5)) are in position to either open up or defend if possession is lost. The left back (Abidal (22)) offers a wide outlet, but the right back (Alves (2)) stays high up the pitch, anticipating a breakout. Valdes is comfortable and confident with the ball at his feet and he often looks to Busquets (16) checking in the middle as an outlet.
This pass, incidentally, led to an early goal vs. Real Madrid in the first edition of the Classico in 2011-2012, as a turnover caught the Barcelona squad too spread out to be able to defend. Not surprisingly, Valdes et al were not deterred, though and continued to knock the ball around in their back third, wearing out Real's front line and creating space behind them for the Barcelona midfield to exploit. In essence, playing into the midfield triangle immediately allows the team to get the ball onto the feet of the players the team wants to run the game. If Busquets is unable to turn, he typically plays one of the back line players (often Abidal) to open up space and stretch the defense.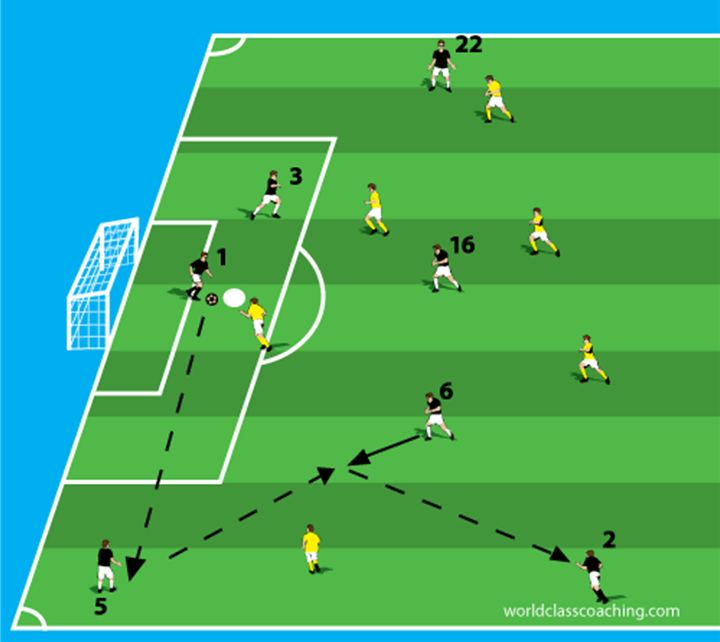 Playing out of the back (2) vs. high pressure
Another, more extreme example is shown above. The opponent pushes six players forward, pressing Valdes (1). Logic would certainly dictate playing a ball over the top of the pressing group. However, in a sequence repeated often in La Liga and in Europe, Valdes swings the ball out to Puyol (5). Still, the danger is considerable, as a turnover would find Barca in poor defending shape and Puyol, for all his combative qualities, is not the most gifted passer of the ball. However, the perspective of the Barca players is that a new small-sided game has commenced in the back third and that they need to send help, rather than clear the ball. Thus, Xavi (6) checks sharply toward Puyol and then plays Alves (2) first-time, and the opponents' pressure is broken.
You can find more of Barcelona's attacking patterns plus a complete tactical analysis of their play in our book here.