By Rees Linn
Youth strikers generally develop in two striker systems, and often, the transition into a system that employs a lone striker can be a frustrating one. One of the most difficult concepts for young strikers to grasp in a lone striker system is how to find space behind the opposing backline. The difficulties arise because of systematic differences in how space opens up behind defenders. In a two striker system, strikers are able to use each other's runs to pull defenders out of position, but in a lone striker system, the midfield must be capable of working the ball into areas that force defenders to shift out of position.
This season, Robin Van Persie and Arsenal have clearly figured out what it takes to score with only one player up top; a fact reinforced by Van Persie's incredible scoring record over the course of the 2011/2012 campaign (26 goals in 30 Premier League appearances at the time I'm writing this). One of the things that has set Van Persie and his supporting cast apart is the ability of Arsenal's midfielders to work the ball through opposing midfields, which forces opposing backlines to shift forward to apply pressure, creating space for Van Persie to move into. Here is a quick example from Arsenal's win against Everton this week:
1. Song receives the ball in space, and with limited help from Everton's midfield, Distin must step forward to close down Song's attacking space.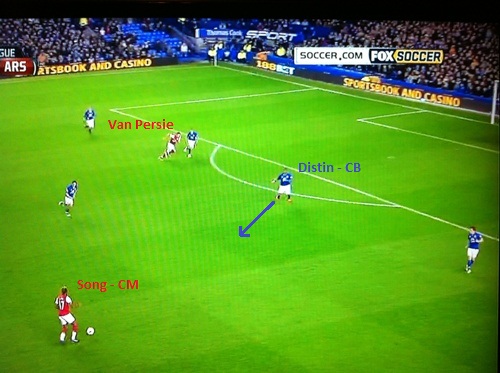 2. Van Persie anticipates the space opening up behind Distin and begins his run.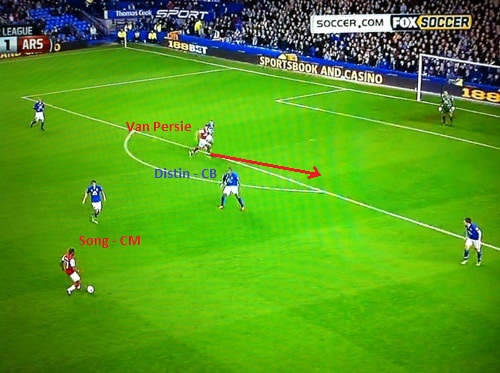 3. Song slides the ball into the space beyond Distin, and Van Persie is in on goal.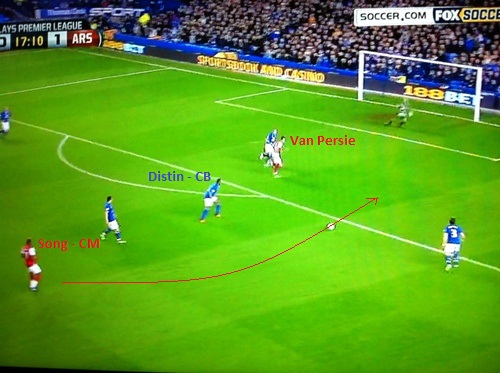 Rees Linn is a student of the game living in Dallas, TX. He can be reached at reeslinn@yahoo.com for writing or coaching opportunities.