By Ricky Clarke
These two teams never fail to produce boring games, this weekend's games wasn't any different. The game had everything, game finishes, poor ref decisions, fantastic passes and terrible defending. Personally, I think the movement and passing was world class, let me know your thoughts?
Below I've outlined some of the key moments in this game.
Welbeck – Out of position Cahill penalty chance
Ryan Giggs is given way too much on the ball. Welbeck starts his run behind Cahill. It's a poor starting position from Cahill given the amount of time Ryan Giggs has. Welbeck runs across Cahill and exposes Cahill's poor defensive positioning.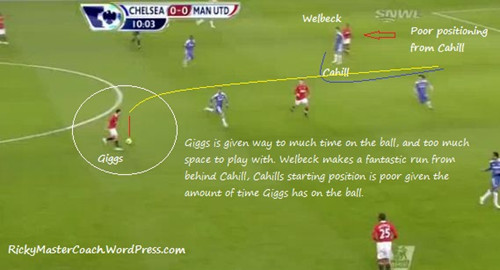 Sturridge – Out of position for Rooney penalty
Ryan Giggs is given way too much time on the ball…again. Welbeck's movement inside creates room for Evra to attack. Sturridge is caught the wrong side of Evra, his poor tackle is a result of this starting position.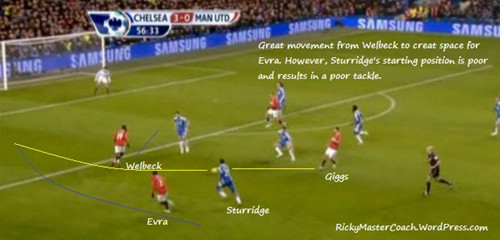 Evans – Out of position for Torres chance
Jonny Evans starting position is very high given the long ball that's just been played. Evans isn't even looking for Torres, his eyes are 'ball watching', plus Rafael's starting position is way too wide. Torres should have scored!

Luis & Cahill – Out of Position for Hernandez Goal
As the ball is played out wide, Cahill can be seen directing Luis to mark Hernandez. However, with a perfect pass from Giggs, both Chelsea defenders forget to mark and Hernandez finds the seam to finish with a header. Poor positioning from Luis, he's looking forward and should be able to deal with the pressure.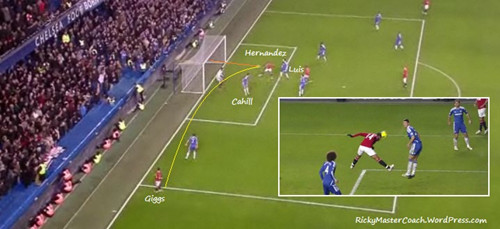 Key Man of the Match
This game exposed some serious defensive mistakes. However, Ryan Giggs was at the center of everything for Manchester United. He made three out of the four passes listed above, and his influence still continiues to help Manchester United achieve results.
The session below outlines developing the 'Killer Pass' like Ryan Giggs.
Ryan Giggs See below his influence on the game.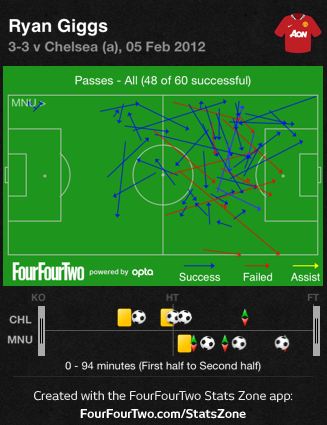 Developing a Killer Pass
The ability to defend against quick passing and electric movement will test the skills of defenders at any level.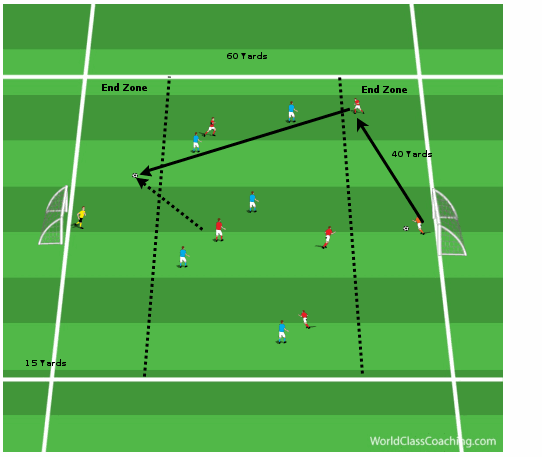 Session Outline
The field is split into three grids with the teams playing 5v5 + gk's.
1.    The game always starts with the GK rolling the ball out to an unopposed defender, dropping off into the end zone.
2.    The defender can dribble or pass into the middle attacking zone. The defender should be looking to retain possession, but find a pass into a runner attacking the end zone.
3.    The blue team can't defend the runner, until the ball has entered the end zone.
4.    Off-side rule applies in the end zone.
Progressions
•    Add supporting players to the attacking team.
Coaching Points  
•    The player in possession, always looking to play forward through seams.
•    Movement and support based on ball rotation.
•    Cultured passing, curved, chipped and disguised passes in the attacking part of the field.
Ricky Clarke is a USSF 'A' License, USSF Youth License and NSCAA Master Diploma coach. Ricky is the DOC of Mission Valley United, leading several teams to state championships.  Ricky also coaches for the Northern California ODP programs and is a state course instructor and NSCAA associate staff coach.  Visit his Blog here.