By Ricky Clarke
Harry Redknapp is known for his transfer bargains. Many people have questioned the signing of Louis Saha from Everton. However, whatever Harry touches, typically it turns into gold! Adebayor produced a first class performance this weekend. His movement, finishing and ability to create goals helped Spurs complete a 5-0 demolition of Newcastle United. Below, I've outlined his key movements within the first three minutes which lead to Spurs opening goal.
Adebayor– Movement Pattern #1
Adebayor drops off to receive the ball deep. NOTE – he has way too much time to turn, dribble and attack the NUFC defense.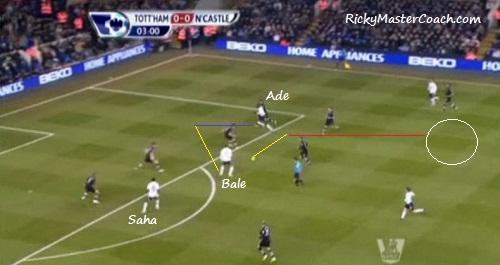 Adebayor – Movement Pattern #2
NUFC gives Adebayor too much space, here he combines with Bale and continues his aggressive run.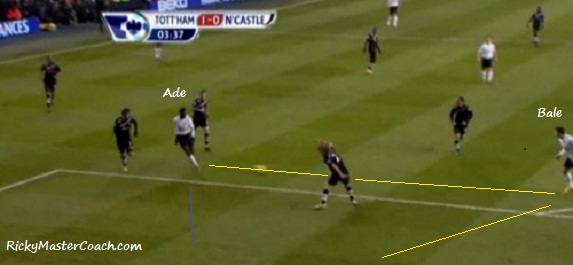 Adebayor – Technical Adjustments #3
Adebayor recognizes the space behind the defender, he lets the ball roll across his body and pass the defender.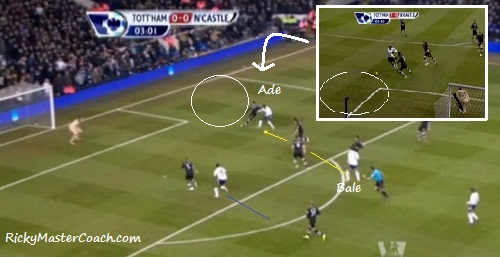 Adebayor – Movement Pattern #4
Adebayor 's fake across his body then allows him to cross the ball for Ekotto who's following up. Note – Ekotto is a left full-back, his advanced position is a reflection of Redknapp's attacking mentality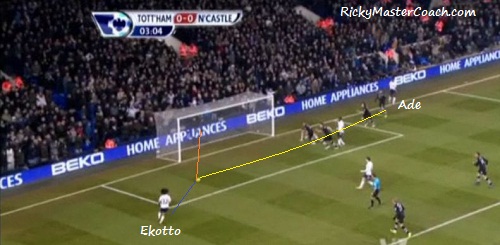 Adebayor & Tottenham Hotspur Performance Tracker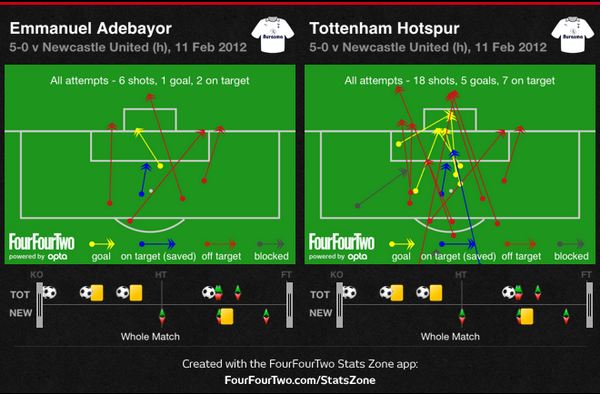 These diagrams offer an insight into THFC attacking mentality throughout the game.
Adebayor Movement Session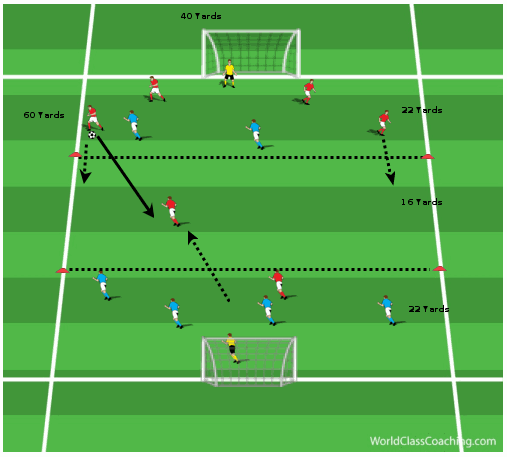 Session Outline
Functional train your striker #9 or player maker #10 to find space and create goals/chances. The game is 7v7, with two areas of the field split into 4v2 situations and a middle neutral zone.
The Red team striker check's into the neutral zone looking to receive a pass. Note – this player has three seconds to receive a pass. The blue team can't follow or defend in this zone.
Once a pass is played forward, the Red team can commit two defenders. This will create a 4v4 situation.
Progression, let defenders track runs into neutral zone.
Coaching Points  
Movement towards the ball must be explosive and direct.
The striker must read the visual cues from teammates (head up means looking for pass).
Receive the ball on a turn, peek before receiving.
When in possession drive and commit defenders.
Ricky Clarke is a USSF 'A' License, USSF Youth License and NSCAA Master Diploma coach. Ricky is the DOC of Mission Valley United, leading several teams to state championships.  Ricky also coaches for the Northern California ODP programs and is a state course instructor and NSCAA associate staff coach.  Visit his Blog here.